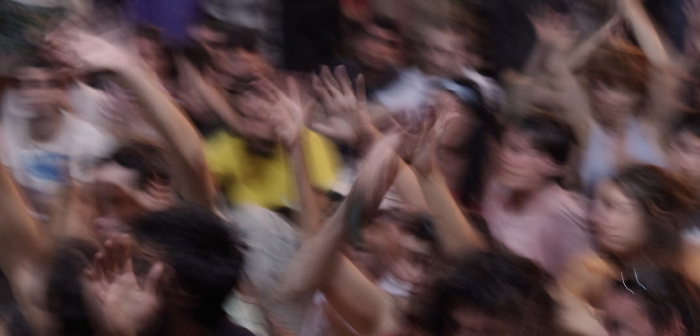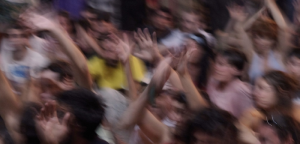 If you ever catch us doing THIS, we kindly ask that you let us know about it because it's rude,  unkind and totally distracting (according to us)…
Sunday evening we took our folding chairs and went to a free outdoor concert by a wonderful local theater group highlighting the music of Joe Cocker…
If you're not familiar with Joe Cocker, he was a HUGE rock star and songwriter in the 60's, 70's and 80's and had many big hits.
Last night's tribute by the theater group certainly didn't disappoint us but something else did…
What we've realized is that it doesn't matter whether you pay $200 a ticket to go to an event or it's free…
These days, people talk during performances–(and usually very loudly).
If this sounds like a rant, it is.
But it's about much more than that…
These people sitting behind us Sunday evening at the concert (and just about every other event like this we've attended in the last year or two) weren't following our "rule" of being quiet during a performance.
Obviously, we had two different intentions for this event…
We came to listen to the music and they came to socialize with each other.
Now don't get us wrong…
We love to socialize with friends and family (we were part of a group of 7 attending this concert)…
But we did it BEFORE the concert and not during it.
(If you sense some judgment here, you're right!)
In thinking this over, we've realized this…
*The two of us have made it all up that people should be quiet at a concert and get off their smart phones and Facebook.
*The two of us believe that our way is the "right" way.
And this is all based only on our thinking.
We've discovered that this is the way it is in every aspect of everybody's relationships and lives.
You, we and everyone else thinks and believes there is a "right" way and a "wrong" way to see things, do things or behave in certain situations and it's ALL based on individual preferences.
Now that doesn't mean that we have to sit back and do nothing when clashes in preferences appear.
Last night Otto did speak with the people behind us to ask them to be quiet…
But sometimes we don't say anything when we're in this kind of situation.
The point is that knowing that the other person just has a different way of looking at the same situation than you helps to soften it so the two of you can find some common ground.
We've found that if you hold fast to the idea that you're right and the other person is wrong, there is no meeting ground…
No chance of finding a resolution that everyone can accept.
If you realize that you have a preference and the other person has a preference, leaving judgment and blame out of it…
You can make a simple request (as Otto did) or you can even not make a big deal out of it and let it go.
The truth is that you're always ok, no matter what is going on in a situation.
It's just that your mind tries to trick you into thinking you're not.
So the next time you're caught in thinking that someone is rude, unkind or acting in a way you don't think they should act…
Understand that in that moment you're acting out of "rules" you've made up about how things are supposed to be.
Notice two things about what we just said about preferences or "rules"…..
(1) You're the one who made it up about how things should be and
(2) If you're open to it, there may be another way of seeing the situation.
Before you think we've gone off the deep end…
Please know that we're NOT saying that you should compromise your values or turn yourself into some kind of emotional pretzel to just try to keep the peace or to love (or be loved by) someone.
We're trying to show you how much of our inner world in love and life (both the good and the bad) is just something we've made up in our heads.
We do it.
You do it.
And so does everyone else.
It's a part of being human.