But you're not too late to sign up for our "Fresh Start 2020--The Loving Space" Program...
What if love didn't have to be so hard?
What if communication could be MUCH easier?
What if talking to someone you care about didn't have to turn into a complete disaster over the simplest, smallest things?
What if you never had to worry about whether you could (or should) trust your spouse, partner or love again?
What if you could make "getting blindsided" a thing of the past and you could have total faith and trust in your partner and their love again?
What if you could have a fresh start at love and life?
If you want to get a new start in 2020, then you're in the right place!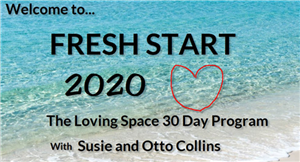 You can contact us by email or by phone 614-568-8282 if you have questions and would like to speak with one of us.
Our best to you,
Susie and Otto Collins