Get this Free E-Book Now And Discover...
14 Communication Problems and How You Can Reverse Them
Hi, we're Breakthrough Relationship coaches and authors Susie and Otto Collins and we know how a perfectly good relationship can be ruined by communication problems and misunderstandings. If you can see that learning some healthy communication tips can help your relationship, get our "Relationship Reverse Right Now" e-book free of charge. Here are a few things you'll get in this e-book...
Enter your details below for instant access to the free e-book...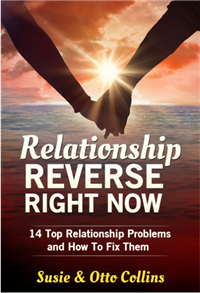 Common communication problems that create relationship breakdowns
5 Word-For-Word Scripts that help you talk about anything
14 Relationship Reverses that you can easily do for a happier, easier relationship
Access to our Free Online Newsletter and information for creating and keeping the relationship and life of your dreams
"Relationship Reverse Right Now" Ebook
By filling your info in below, you'll receive emails from us as well as a link to download the ebook.