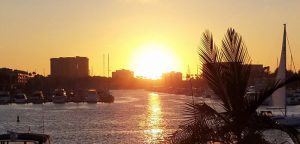 Sometimes problem solving (whether big or little ones) can be difficult and cause disagreements, especially when you have one idea about what's "right" to do and your partner or another person has another idea.
In this last year, the two of us have had some important insights that help us now when something comes up that could be considered a "problem"…
Here's what we mean and how you can benefit from what we've learned…
The two of us were at Michael Neill's Super Coach training for coaches like us recently in beautiful Marina Del Rey, California (near Los Angeles).
Because we knew were were going to be spending most of our time while we were away at the training, we decided not to rent a car.
This was fine because we love to walk.
But when we wanted to join friends in Santa Monica (several miles away) the last evening after the training was over, we needed transportation other than our feet.
Since we both have cars and drive wherever we need to go when we're home, we had never tried Uber so we downloaded the app and thought it would be easy.
Normally it is easy (or so were told)…
But as we sat on a bench in front of the hotel with phone in hand, no matter what we tried, we couldn't make the app work.
Meanwhile time ticked on as we asked various Uber drivers and other guests for help.
Instead of getting frustrated or even arguing about what to do (which might have happened in the past), we stayed calm, somehow knowing that it would all work out for the best.
After we sat there for maybe 25 or 30 minutes, a woman who worked at the hotel sat down with us, we chatted and she showed us how to use another service.
And she even had a discount she shared with us so the rides that we took to Santa Monica, back to the hotel and to the airport the next day were all at a fraction of the cost of the other service had their app worked correctly on our phones.
It all happened easily and effortlessly because…
We stayed calm, enjoying being together as well as talking with other people despite it not happening in the time frame we originally thought it should.
Now we know that this wasn't a "serious" problem but the fact is that if you find a sense of calm within yourself, there is room for something different to show up no matter how big or small your problems might seem to be in the moment.
It may be in the form of someone like the hotel employee appearing to give you a workable alternative to a solution you hadn't known about…
Or it might be inner knowing that comes within you in the form of an insight that you couldn't access when your mind is busy rolling over alternatives that haven't worked up until now.
This inner knowing and this inner wisdom is something we all have available to us–ALL the time.
We only have to know it's there and notice when the mind chatter is taking us away from opening to it.
When you don't consider a problem a "PROBLEM" but rather point yourself in the direction you want to go, there is a lot more space for something wonderful and amazing to happen.
About now, you might be thinking of us as Mr. and Mrs. Pollyanna…
But over the past year or year and a half, we've seen miracles happen in our own lives all because we were willing to not take our thinking in the moment so seriously and see our "problems" as something other than "problems."
And that leads us to a couple of really important questions…
What if big or "serious" problems were as easy to solve as us finding a different way to meet our friends than we had planned?
What if it is only our thinking that causes most (or all) of our problems in life?
What if we all had deep profound wisdom inside us all the time just waiting to be accessed?
What if all these things were true, how would your life change?
How much more peace, love, freedom and joy would you be able to have in your life?
We're guessing a lot.