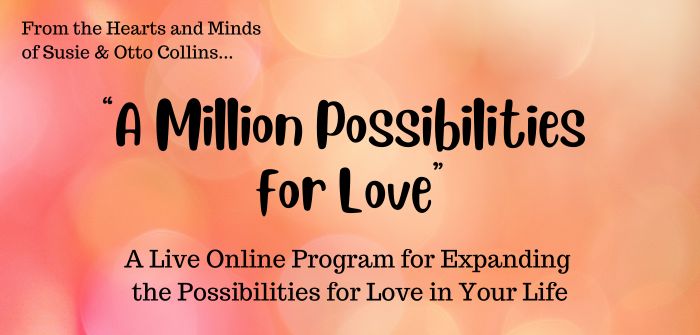 There Are at Least a MIllion Possibilities for Expanding Love in Your Life
But If You're Like Most People, You Can't See Them.
One of the biggest reasons people struggle to have the love they want in their life is they don't see it as a possibility.
We're going to change all that for you by helping you to open to seeing something more, something different and some possibilities for love (and your relationships) that you can't see right now.
Here are the details
The program includes a total of 4 sessions via Zoom where we'll explore possibilities for love in practical, easy ways on these dates:
Session One—Wednesday, Nov. 8, 7pm ET—"Seeing Unlimited Possibilities for Love" (replay is available)

Session Two

—Wednesday, Nov. 29, 7pm ET--"Winning the 'What If' Game"

Session Three

: Wednesday, Dec. 6, 7pm ET--"Loving Through the Differences-Taking the Struggle Out of Love"

Session Four:

Wednesday, Dec. 13, 7pm ET—"Tapping into an Abundance of Love"
Replays will be available if you can't attend "live" but we highly encourage you to go all in on creating more loving relationships by clearing your calendar on those dates and times.
A 60-minute private one-on-one coaching session with Susie or Otto where one of us explores with you new possibilities in your life
The cost for all 3 sessions on Zoom and coaching is a low $79.
In addition to receiving access to this program, you will also receive occasional emails from us with helpful ways to improve your relationships. You can unsubscribe at any time at the bottom of every email we send. Please see our Privacy Policy and Terms of Service.