EP34: Choosing Love Through Fear, Anger and Disappointment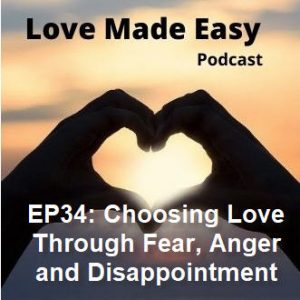 Fear, Anger, Upsets and Disappointments are a fact of life and in this episode (EP34) we're talking about choosing love in spite of what happens in life.
It's a fact, no matter what's going on in the moment, you have two choices: to show up and choose love or to choose fear, anger and disappointment and live from that place.
In this episode we introduce you to the idea that living from love and choosing love really is a choice. It's a choice most people don't understand they have but they do.
We'll also share some personal stories from our own lives and the lives of our coaching clients about how we (and others) chose love over fear in some very difficult or challenging situations.
Love and relationships shouldn't have to be such a struggle.
Listen to this episode now for some great ideas for how to make love MUCH easier.
Blessings and Love To You,
Susie & Otto Collins