EP27: Getting Better With The Communication Skill We're All Lousy At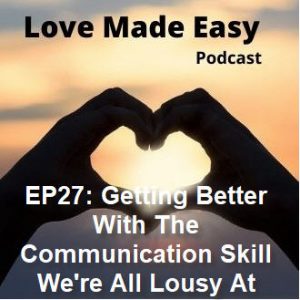 What if there was a communication skill almost all of us were lousy at, but didn't know it?
For most of us, it's listening and that's what we're talking about in this episode (EP27) of the Love Made Easy Podcast.
As you know, communication in your relationships is something you must get right if you want great relationships.
It's time to stop ignoring this skill, put some effort into how to get good (if not great) at listening and start making your communication skills top notch.
We love talking about communication and sharing new ideas and actionable communication skills you can put into use right away.
Love and relationships shouldn't have to be such a struggle.
Listen to this episode now for some great ideas for how to make love MUCH easier.
Blessings and Love To You,
Susie & Otto Collins