EP23: When To Trust Your Intuition (In Love and Life) and When To Ignore It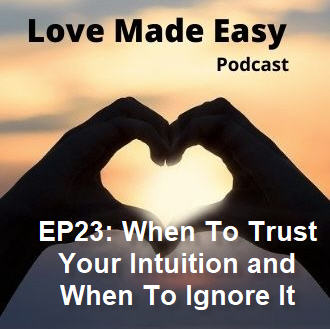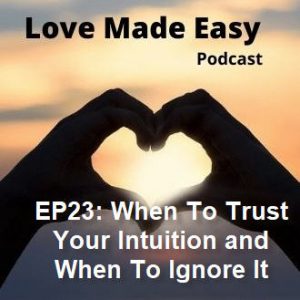 There are millions of reasons why you want to be able to trust your intuition and make sure you make the right decision in all parts of your life.
Affairs, infidelity, whether to stay in or leave a relationship, truth-telling, whether to take a new job that's offered or not, whether to move to a new city, whether to have a recommended heath procedure and on and on…
Sometimes you get a "gut feeling" you feel like you need to follow and sometimes you're just not sure what to do.
In this episode, (episode 23) of the Love Made Easy Podcast we're talking about When To Trust Your Intuition and When To Ignore It.
If you want to take the mystery out of when to follow your hunches, get feelings and internal nudges, this episode is one you're going to find really helpful.
We ALL have inner guidance available to us all of the time. We just don't know the secrets to following it most of the time. By listening to this episode, you'll get some of our best ideas for "listening within."
Be sure to sign up for our weekly emails and check out our other free resources about love, relationships and having the best life ever at https://SusieandOtto.com
Much Love to you,
Susie and Otto Collins