EP10: Arguing For Your Limitations in Love and Life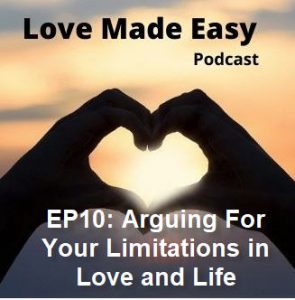 Arguing for your (or someone else's) limitations is one of the biggest roadblocks to having the love and life you want –and most of us don't realize how much of the time we're doing it.
In this episode, (EP10) we're talking about the big problem of how much and often we are arguing for our limitations and how to make sure you're not getting in your own way.
As you listen to this episode, you'll learn 5 ways almost everyone put up blocks, barriers and limitations to the love and life they want (without realizing it).
You'll learn how to recognize when your internal conversations are taking you away from what you want and how to shift that internal dialog to something that will get you more of what you want in love and life and much, much more…
It's time to stop arguing for your (and other peoples') limitations. In this episode, we'll show you how.
Love, relationships and life shouldn't have to be such a struggle. Listen to this episode now for some great ideas for how to make love and life MUCH easier.
Much love to you, Susie and Otto Collins