EP:06 Healing a Relationship Divide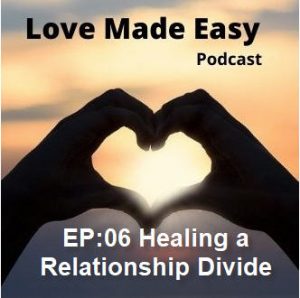 Healing a broken relationship with someone you love or care about can be incredibly difficult. In this episode (EP06) of the Love Made Easy Podcast, we're talking about how to heal a relationship divide.
Here, we share some very important questions to ask yourself (or someone else) if you want to heal a relationship. We talk about why we sometimes resist healing relationships that are important to us.
We also share some very personal stories that illustrate how easy it can be to heal a relationship and also why you may not want to heal every relationship with issues or challenges.
Love and relationships shouldn't have to be such a struggle. Listen to this episode now for some great ideas for how to make love MUCH easier. For more help in dealing with your relationship challenges, contact us here…
Blessings and love to you, Susie and Otto Collins