Learn How These Simple Communication Ideas Totally Saved Our Relationship....
Here Are Shortcuts That Work Like Magic...
To Get Your Spouse, Partner or Lover to--
Listen to You

Open Up To You and

Willingly Talk To You About Anything –Without Any Pushing or Nagging
Read this page from beginning to end and we promise you
We'll show you how to make your relationship better.
Feeling Stuck Because You Don't Know Where or How to Start?
(Or Even if You Want To!)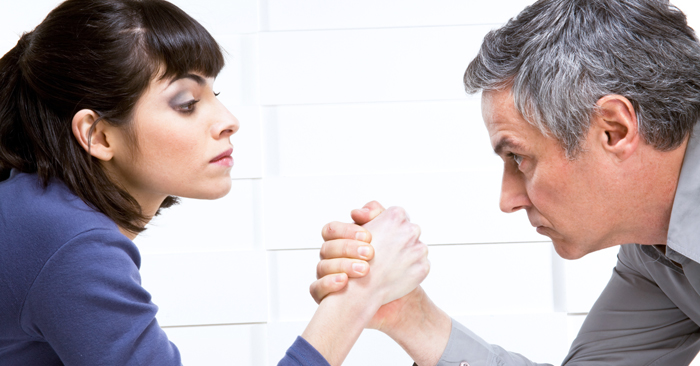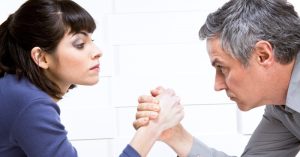 Don't worry, you're not the only one.
If you're like most people today, you're frustrated about your communication (or lack of) with your spouse, partner or lover.
You want your communication to be easier, more open and you want to feel that close, loving connection with your partner...
But you don't.
You might be trying all kinds of things to get back to the way your relationship used to be--but they end up being "wrong."
And the problem is that you usually just end up making things worse.
That's how a lot of relationships end up falling apart.
People Either Go to Extremes to "Fix" It Or Just Ignore The
Problem Completely (Both Are Wrong Moves!)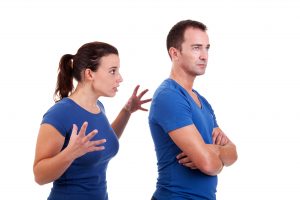 That's mostly because people who have trouble communicating without getting into an argument just don't know what to do first.
So they either go for the offensive and try to "make" their partner see their side of it...
Or they decide to only just talk about everyday matters and not what's really in their hearts.
It might seem like a "smart" idea to try to get your partner to see your way or even to just stick to the basics of living together.
However, neither approach will help the two of you create a deeper connection and understand one another...
And this could be even more damaging in the long run.
Learn From Our Mistakes...
Today, in addition to having a great relationship between the two of us filled with with lots of love, trust and connection.
While we are so happy to have this kind of relationship and are proud to have come this far both personally and professionally...
The truth is that it wasn't always this way.
At the time we're writing this letter to you, we've been together 19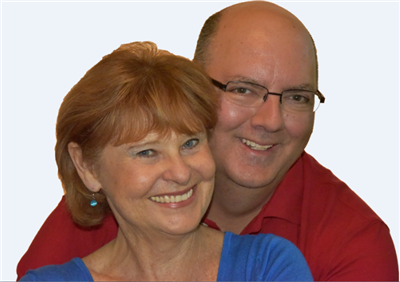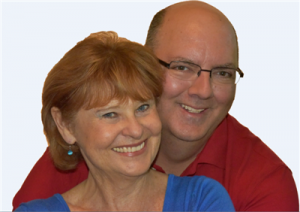 years and before "finding" each other, we were both married to other people and were with them for quite a while.
In fact before getting together, Susie was married to someone else for 30 years and Otto was married to someone else for 15 years.
We didn't realize it then, but in hindsight we made every mistake possible in our previous relationships and marriages, especially around communication--or lack of!
And still... as crazy as it sounds... as we look back on those times before getting together and think about how we each communicated in our previous marriages, all we can say now is--"that's good" and here's why...
Most people don't learn from the mistakes they make in their relationships and life and just continue to stay stuck in old familiar patterns.
That's what we did until one night we had a 2 minute conversation in the middle of the night that changed everything...
We realized that even though we had the proverbial "soul mate experience" and felt like we had finally found our true soul mates in each other, it wasn't enough to keep the spark alive forever.
We knew that unless we thought and acted differently in this relationship, it would die just as our previous ones did.
What we did in that moment was make a commitment to ourselves and each other to learn the secrets to communicating and connecting with each other in ways that our hearts always stayed open, the passion could stay alive and our love could stay strong--for as long as we wanted.
Because of what we learned and what we're about to share with you, you can also create a closer and more connected relationship.
We encourage you to learn from our mistakes and start creating a better relationship starting right now...
2 Things We Did That Makes Communication and Connection Dramatically Better Almost Instantly...
There are a lot of things we've done over the years that have made a big difference in the quality of our communication and our connection.
Here's what Susie says (in her own words) were big "ah-ha's" for her--some things she used to do that cut off intimacy and connection and what she does now that creates much more love and connection...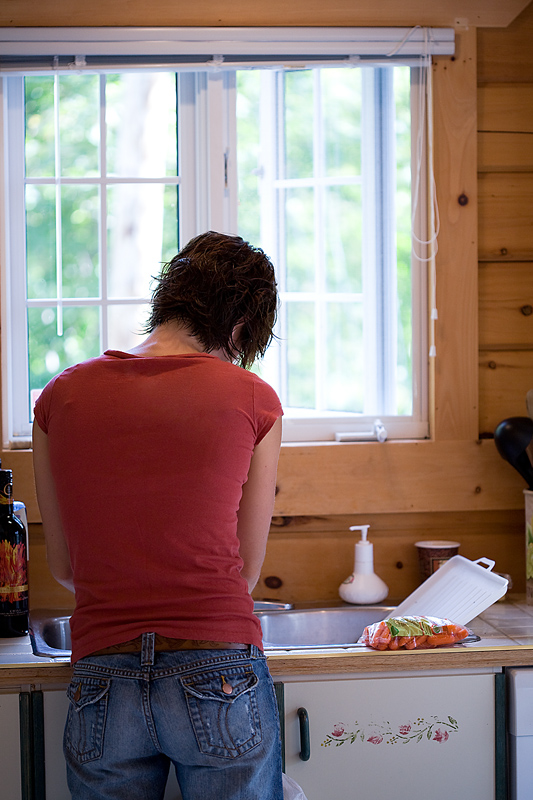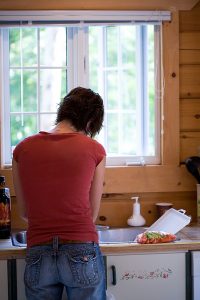 Susie: "I remember the moment as if it were yesterday. Not too many months after Otto and I got together, I was washing dishes and cleaning up the sink, with my back to him as he talked to me.
"This was familiar to me because this is the way my communication often was with my ex-husband while we were married. He talked to my back, as I walked through the house picking up things and putting them away, and with me answering him--but not often looking into his eyes as I talked.
"I had fallen into an old habit that decreased intimacy but Otto called me on it.
"He wanted all of me engaged in a conversation and not just a part of me.
"At that moment, I realized that I had been cutting off the connection and intimacy that I deeply wanted without even realizing it.
"From that moment on, I became more aware of where my attention was, especially in my conversations with my beloved. This attention has helped me to stay focused on what's really important in my life and create the love I want."
Here, in Otto's own words, is something he used to do and what he's done differently that's made a big difference in our relationship and what you can learn from this...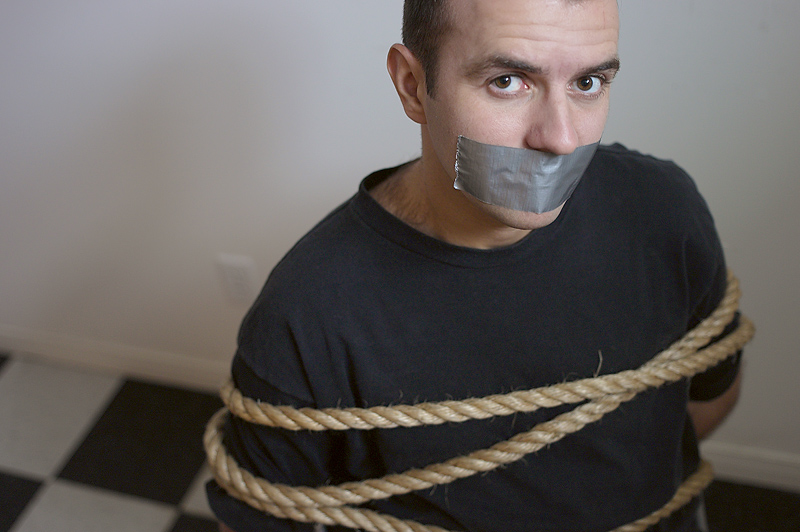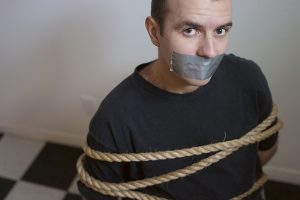 Otto: "In my previous marriage and in the early days of my relationship with Susie, I sort of lived from this 'Yes dear whatever you want dear' place where (in my own mind at least), I'd say and do things that I thought my partner wanted to hear, just so I could keep the peace and have my desire for love and connection met.
"Big problem. This 'peace' would usually only last for a while and then I'd get really angry and explode telling her how much I resented giving over my power to her and letting her get her way all the time.
"Again, this wasn't rational. One day I realized that it was only a pattern I was running in the way I communicated and tried to give and get love and when that happened, everything changed.
"Along with Susie's help, I figured out that if there was something I wanted that I could simply tell Susie about it (without giving over my power or acting like some sort of victim) and say something to her like...'Because this is something really important to me or because this is something I'd really like, can we find a way to talk about this?'
"When I was able to start talking to Susie in this way, everything changed for the better."
Does this describe your relationship?
Have you ever wanted to be able to tell your partner anything but couldn't because you weren't sure how they would respond or react?
Have you ever wanted to know how to express your needs in a way that he or she understood and responded to in a positive way?
Have you ever wished they wouldn't run away, turn their backs on you, freeze you out and ignore you, your feelings or your thoughts and words?
Have you ever wanted to be able to get your partner to be able to listen-truly listen to you-so you didn't feel so alone and unimportant?
Have you ever wished that they didn't have to be "right" all the time?
Have you ever wanted him or her to just open their heart to you and just tell you how they felt about something you were talking about--instead of you feeling like you have to use a crow bar to get them to open up?
Have you ever wished communication was just plain "easier?"
If you want all that and more, our program called "500 Communication Tips & Secrets" will help you learn ways to create a closer and more connected relationship or marriage.
Keep reading...
500 Communication Tips & Secrets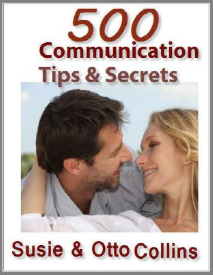 "500 Communication Tips & Secrets" is a program by us (Susie and Otto Collins) that's available for immediate download and offers over 500 communication tips, ideas and secrets for how to communicate better, more intelligently and from your heart with yourself first and then with your spouse, partner, or lover, as well as the other people in your life.
These tips are the best of the best communication ideas we've discovered over our intense study of relationships and communication over the last 22 years.
The 500 tips are distributed over 40 categories that are the major challenges that people face in their lives around communication.
There's no right or wrong way to go through this material but we do have two suggestions you could choose from:
1. Read and practice a tip (or several tips) of the day, focusing on how that tip applies to you.
2. Totally immerse yourself in the book, cover to cover, making note of the tips that you particularly want to practice and integrate into your life.
The key is to practice these tips because nothing will change unless you put these ideas into action in your life.
You can go through the material with a partner or by yourself. If you're with a partner and you have a particular problem area that you struggle with, choose to start there and go through that section together. If your partner isn't open to reading this book with you, know that you can still make powerful changes that improve your relationship communication and life.
Whether you are working through this material by yourself or with a partner, be sure that you notice when your communication is easier and more relaxed. It's tempting to be discouraged when you or your partner lapse into old habits that push the two of you away from each other but the magic of creating new habits is in noticing even very small changes that create more love—and then doing that more.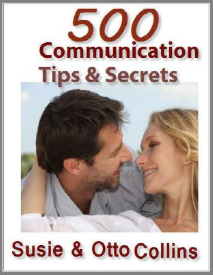 "500 Communication Tips & Secrets"
$37
Don't Just Take Our Word For It
Discovered Many Ways to Keep Her Love Alive...
"I have found your books to be both inspiring and educational. I have learnt important things about love and relationships that I never paid enough attention to in the past. I have discovered many ways to keep my love alive and they have also opened me up to the idea of re-examining myself and my life and my expectations of love and my partner.
"Even though I do not know you both personally, I felt a deep connection to you. I thank God for you both and I am thankful that you took the time to share your wisdom and experiences with me."
LOVE, Fiona.
"Clear and practical relationship advice..."
"You two have really hit the nail on the head! I feel like you looked right into our relationship issues. Your insights and ideas are so clear and practical. I am excited to put them to use! Thank you!"
Susan, Florida
"Practical Help For Anyone Who Has a Desire To Improve Their Relationship or Recapture The Magic..."
"We are excited about some of Otto and Susie's creative ideas to enhance or rekindle the spark in a relationship or marriage. Otto and Susie are experts on the subject of loving relationships. Their ideas are practical help for anyone who has a desire to improve their relationship or recapture the magic. They are experienced, compassionate, and caring coaches, who have a wealth of worthwhile information to help us all improve our most important relationships."
Roy and Gwen S.
"Concise, clear format with step-by-step tangible tools..."
"I participated in the seminar last night and the night before on relationship trust. I found this program to be well organized and presented in a concise, clear format with step-by-step tangible tools that one could incorporate easily in one's everyday life.
"I appreciate not only the great information provided at an affordable price, but I respect both Susie and Otto's compassionate, caring and thoughtful responses to some of the seminar participant's questions.
"It was also helpful to have both the male and female perspective. Thank you for providing a great learning format."
Margie, Alaska
Here's What You Get Inside "500 Communication Tips & Secrets"
1. The "500 Communication Tips & Secrets" Ebook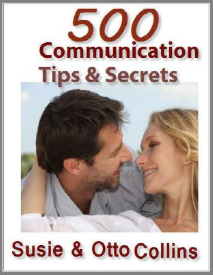 Here, you'll learn about:
--How you can stay connected or intimate with your partner even during arguments or misunderstandings
--How to deal with a partner who is controlling and sees no reason to change
--The best words to say and use when you want or need to set boundaries or make requests
--How to tell the truth in a way that is kind and helpful instead of upsetting or destructive--even when it's difficult
--How to get your partner to open up to you and talk to you about anything
--How to have more trust and connection between the two of you
--5 keys to communicating and talking about "hot-button" topics like sex, money, trust and kids and so much more
You'll also get these additional ebooks...

Bonus #1
77 Dumb Things Couples Say That Kill Passion & Love by Susie and Otto Collins
In this special report, we take you behind the scenes and into the lives of 77 people who answered our recent survey about "dumb" things a spouse, partner or lover said to them that killed passion and love. We also give our comments about what to do if your partner says these "dumb" things to you.
While parts of this special report are meant to be both funny and light--we suggest that you use these examples be a warning of what not to say and how NOT to act with someone you care about if you hope to keep.

Bonus #2
7 Reasons Why Men Have Difficulty Getting and Staying Close by Dr. Bob Huizenga
In this special report by our friend Dr. Bob Huizenga, he points out that we ALL have patterns. You, your partner or spouse--your neighbor down the street... We all do. Here, Dr. Bob points out the reasons why men seem to have such difficulty getting close & staying close. Fascinating.

Bonus #3
10 Keys to Spine Tingling Warmth and Intimacy in Your Marriage by Dr. Bob Huizenga
After having talked to literally thousands over the decades about their primary relationship, our friend, Dr. Bob Huizenga contends that you, like everyone wants a warm feeling when around your spouse. You want your spine to tingle. You want "Magic Moments." In THIS special report, Dr. Bob outlines 10 keys to spine tingling warmth and intimacy in your relationship or marriage.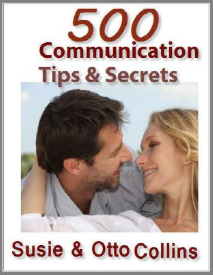 "500 Communication Tips & Secrets"
$37
What we're offering here is a breakthrough program on how to communicate, connect and create a lifetime of love.
These communication tips, ideas, insights and strategies are absolutely cutting edge. NO ONE else is teaching the kinds of proven, practical, real world, tried and tested communication ideas that you'll find here.
If you want to learn the secrets to communicating and getting a spouse, partner or lover to open to you, communicate with ease and love and free of drama and conflict--then you'll love our "500 Communication Tips & Secrets."
If you're someone who loves "shortcuts" and would love to have some that could instantly improve your communication, this program is for you.
If you're someone who wants to have more ease, love and connection, the "500 Communication Tips & Secrets" are for you.
If you like things that are proven to work in the real world, these tips and secrets are for you.
If you'd like an affordable solution to your communication challenges instead of something long, drawn out and painful, this is your answer.
If you've lost that feeling of love and connection, there's no better resource available anywhere for learning some quick, actionable ideas for connecting deeper right away.
If you've tried everything you know to do to get your partner to open up to you, then you'll find these "500 Communication Tips & Secrets" to be an amazing resource.
If things in your relationship have gotten a little boring, you'll find plenty of communication ideas here to bring back that feeling of newness and aliveness that we all want in our relationships.
If you're not having as much fun together as you used to, these communication tips and secrets could be the answer for you.
If you're willing to spend as little as 1 minute a day on learning some new communication skills and ideas, then these ideas could be a God-send for you and change your relationship and life starting right now.
If you are open to some new ideas and trying a few new things that you may not have tried before, then this program is certainly for you.
On the other hand, if you don't have the connection that you truly want, you've decided to give up on making things better and do nothing differently--then you should probably pass on this program and continue doing what you've been doing.
What do you want for your relationship?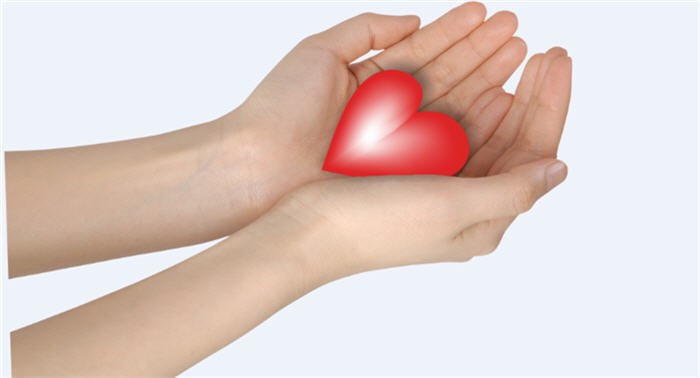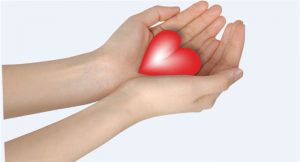 Nothing is more critical to the success and happiness of a relationship than communication.
The simple fact is...
If you can't figure out how to communicate and connect with your partner, spouse or lover, then one of two things is going to happen...
You will either force yourself to stay in a relationship with no connection, love, passion or intimacy and just check out emotionally and deaden yourself inside so you don't feel the pain of feeling alone and disconnected from the one you love.
or...
One day you'll wake up and decide that you aren't willing to live without the love and connection you truly want and either find yourself in an affair with someone else or that becomes the day you start calling divorce attorneys.
If you want to learn the secrets to truly communicating and connecting with your spouse, partner or lover. then you'll never find a quicker and easier way to do it than going through these "500 Communication Tips & Secrets."
Life is too short not to have the love and connection you really want. You deserve to feel loved, appreciated and connected at the heart, mind and soul level with your beloved.
You don't have to become a relationship expert to totally transform your relationship and life. But if you're like most people in relationship today, you do need some new communication skills.
For many people, just a handful of new insights from our "500 Communication Tips & Secrets" will be everything you need to do a complete communication makeover and get you and your partner back to a place of feeling love and connection.
These "500 Communication Tips & Secrets" will show you how to quickly and easily communicate and connect with your spouse, partner or lover in new ways that builds love, trust, closeness, connection, spark and intimacy that will last a lifetime.
Download our "500 Communication Tips & Secrets" program, Plus Bonus Bbooks Now...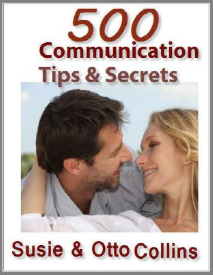 "500 Communication Tips & Secrets"
$37
60 Day 100% No-Risk Guarantee

Your satisfaction is assured through our no risk, you-can't-lose, 100%, no-questions-asked money-back guarantee. If for any reason, you aren't completely satisfied with your purchase, just let us know within 60 days and we'll refund 100% of your purchase price. 
P.S. We've made this program incredibly affordable at only $37 and offer a money-back guarantee for 60 days--so you can't lose!
P.P.S. Act now to take advantage of his program at this price. You have nothing to lose by clicking the "Click Here to Sign Up" button right now.